Back Injury Lawyer in Morristown TN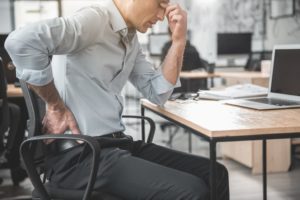 Back pain and back conditions can affect all ages and potentially cause high medical bills and income losses. According to the American Chiropractic Association (ACA), up to 31 million Americans suffer from lower back pain at any one time.
If you experienced a back injury due to a work accident or car crash, you could potentially pursue damages for your healthcare costs, lost wages, and other losses. Your Morristown back injury lawyer can assist you with a claim.
Get started with the process of seeking the compensation you may have a right to receive under the law by contacting The Terry Law Firm today to schedule a free consultation.
What Causes Back Pain?
Back pain can be caused by a variety of injuries and conditions, with some common causes including:
Sprains
Strains
Herniated discs
Fractured vertebrae
Straining is one of the most common back injuries. It can result from a wrong movement or when an individual is lifting heavy items, for example, while working in a warehouse. A sprain can occur in a fall or when twisting while lifting an object.
While strains and sprains are frequent sources of back pain, many different types of back injuries cause back pain and discomfort.
What Is a Back Injury?
Some examples of the more serious back injuries include:
Spinal cord injuries –

Life usually changes forever when an individual experiences a severe spinal cord injury. Injuries to the spinal cord can cause nerve damage and permanent paralysis.

Herniated discs – A herniated disc can potentially happen anywhere on the spine, but it occurs more frequently in the lower back area. Herniated discs can cause weakness, numbness, and pain due to the bulging disc irritating nearby nerves.
Back fractures – Fracturing the back is a serious and potentially catastrophic injury, as fractures can cause spinal cord damage. Small bone fragments from a fractured vertebra can travel into the spinal canal and potentially cause paralysis.
What Are the Costs of a Back Injury?
Costs stemming from back injuries can be extensive, according to the National Safety Council (NSC). Workers' compensation figures alone show that costs averaged around $33,000 for lower back injuries and more than $36,000 for upper back injuries for each claim in recent years. According to Ohio State University, the total cost of low back pain amounted to $33 to $66 billion in one recent year.
Every back injury is unique. It can be challenging to estimate the cost to individuals who suffered a back injury in a car accident, work accident, or another type of incident.
People who suffer a debilitating and catastrophic injury – such as severance of the spinal cord and permanent paralysis – may face exorbitant costs. The medical expenses of around-the-clock care can cause extreme hardship for individuals and their families.
Even a mild or moderate back injury can keep individuals from work and may require medical treatments and physiotherapy, which can all result in astronomical medical bills.
If you suffered a back injury due to another's negligence or in a workplace accident, consider consulting with a back injury lawyer in Morristown today. You could potentially recover compensation. Our experienced legal team at The Terry Law Firm can advise you about your legal rights, legal options, and next best steps.
Back Injuries from Car Accidents
Some of the more common back injuries in car accidents include:
Whiplash
Soft tissue injuries
Bulging or herniated discs
Spine injuries
Fractures
Spinal cord damage
If you suffered a debilitating back injury in a car accident that happened due to a negligent driver or another at-fault party, you could seek damages for your expenses such as lost income, medical bills, pain and anguish, and others. A Morristown back injury attorney can protect your legal rights and fight for the money you deserve.
Back Injuries from Workplace Accidents
In just one recent year, 136,190 work-related back injuries were reported, according to the United States Bureau of Labor Statistics (BLS). Manual-labor workers, such as those in the construction industry, can be particularly vulnerable to back injuries. However, even office workers can strain, sprain, or otherwise hurt their back at work.
If you suffered a back injury while at work, you will most likely file a workers' compensation claim. However, if your injury occurred due to someone else's negligence, such as a non-employer contractor on the worksite, you could potentially have a third-party personal injury claim. You might also consider taking legal action if your employer did not have workers' compensation insurance or you were classified as an independent contractor, and the injury happened due to someone else's negligence at work.
Since there could be various options for seeking compensation, you should consider taking the time to talk with a back injury law firm in Morristown. Our attorneys can assess your accident, determine whether you may have a case, and provide advice on your next best steps.
Types of Back Injury Compensation
If you suffered a back injury in an accident due to another party's negligence, the negligent party should make you "whole" again. While every back injury claim is different and compensation will depend on the severity and permanence of your back injury, you could potentially recover the following types of damages:
Medical expenses and future medical bills
Loss of income and loss of future income
Out-of-pocket costs
Pain and suffering
Inconvenience
Disability
Reduction of your quality of life
Contact a Back Injury Lawyer in Morristown Today
Many accidents can cause back injuries that cause great pain, immense suffering, and significant financial worries for victims. Individuals who suffered a back injury in an accident caused by another's negligence or willful act can pursue compensation.
We are ready to help you get clear on your legal options for pursuing the compensation you need and deserve. The Terry Law Firm is committed to helping injured victims and can fight for a fair settlement by:
Analyzing your accident

thoroughly and determining the at-fault party or parties

Gathering the necessary evidence

to prove your claim as well as your damages

Negotiating

with the at-fault party's insurance company

Presenting your case powerfully at court

if you do not receive a fair settlement offer from an insurance company
We are prepared to work in your best interest and fight for the compensation you have a right to receive under the law. Contact The Terry Law Firm now for help and advice in a free consultation.
Personal Injury
Tennessee is very unique in that the statute of limitations in Tennessee is much shorter than in other states. The statute of limitations for personal injury cases in Tennessee is generally one (1) year. There are exceptions to the one (1) year statute of limitations. 
In Tennessee, one exception to the statute of limitations is the discovery rule. The statute of limitations in Tennessee does not start to run until a person knows or should have known about an injury. 
There is currently a provision in the Tennessee Code regarding extending the statute of limitations where persons have criminal charges brought against them and they caused or contributed to an injury. In these cases, it is possible that the statute of limitations may be extended to two (2) years. At this stage, there has been no ruling from the Tennessee Supreme Court on exactly how this statute should be interpreted; therefore, we recommend filing cases within one (1) year.
The statute of limitations in property damage cases in Tennessee is three (3) years and the statute of limitations for a breach of contract in Tennessee is six (6) years. It is important to note that breach of implied warranty of merchantability, which are theories that are often used in product liability cases, carries a six (6) statute of limitations.
At The Terry Law Firm, clients are welcome to come to our Morristown office, our Sevierville office, or our Greeneville office for a free consultation. This is true for virtually any type of case. 
In personal injury cases, in particular, The Terry Law Firm works on a contingency fee basis which means that The Terry Law Firm does not receive any compensation, nor are you required to pay anything, unless we are successful on your behalf. 
Our general fee in personal injury cases (like most firms) is one-third (1/3). The Terry Law Firm advances all costs and expenses in the case until the matter is resolved. If we are not successful for a client in a personal injury case, then they are not required to pay anything. 
The Terry Law Firm regularly handles cases for clients who have been involved in out-of-state accidents. We have handled cases as far west as West Texas and South Dakota. We have had cases in eastern North Carolina, Virginia, and Florida. It is a regular part of The Terry Law Firm's business to handle cases outside of Tennessee.
Handling a case outside of Tennessee does not cost the client any more than it would if we were handling a case in Tennessee. In fact, the client will likely notice very little difference in a case handled outside of the state versus one handled in the State of Tennessee.