Whiplash Injury Lawyer in Morristown TN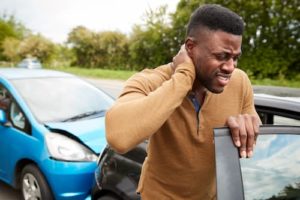 Whiplash is one of the most common injuries people suffer in car accidents. Even a low-speed crash in Morristown could cause a person's head to move backward and forward with enough force to tear the tendons and ligaments in the neck, resulting in whiplash.
For many individuals, the pain and limitations of a whiplash injury could last months, years, or even a lifetime. If this has happened to you, you could be eligible for compensation if someone else was responsible for your accident.
At The Terry Law Firm, we have successfully represented many whiplash victims in Morristown and throughout East Tennessee, fighting to pursue every last dollar of compensation they were entitled to. We are ready to discuss all of your rights and legal options when you call or contact us online for a free, no-obligation consultation.
What Is Whiplash?
Whiplash is a type of neck injury that occurs when a person's neck ligaments or tendons are strained or torn by sudden and forceful movement. It's called whiplash because the way the person's neck moves resemble the cracking of a whip.
The majority of victims report whiplash after car crashes, but they are not the only type of accidents that could cause whiplash. A person could suffer whiplash in an assault, contact sport, slips, trips or falls, and other accidents.
Whiplash or a "pinched nerve" is sometimes the initial diagnosis given for a more serious issue. Many times, people that that suffer a whiplash-type injury can also sustain a herniated disc or bulging disc. This Injury causes pain, numbness and sometimes weakness in the extremities. Sometimes it is difficult to determine if the whiplash-type forces have caused a disc injury. To determine if there is a disc injury that can cause nerve impingement injured folks often need an MRI and a consultation with a Neurologist or a Neurosurgeon. It is important if you have received a diagnosis in the ER of whiplash that you monitor yourself for a more serious injury. If you have pain, tingling, numbness, or weakness in any of your extremities it is important to see a specialist who can determine if an MRI is appropriate.
Common Signs of Whiplash
Signs and symptoms of whiplash may include:
Neck pain
Neck stiffness
Loss of range of motion in the neck
Tenderness in upper back, shoulders, arms
Dizziness
Fatigue
Pain in arms and hands
Headaches
Tinnitus (ringing in the ears)
Depression
Irritability
Blurred vision
Difficulty concentrating
Memory problems
Difficulty sleeping
Is Your Neck Injury Whiplash?
If you experience a tightening in your neck after an accident snaps your head forward and backward, it could be whiplash. Whiplash occurs when structures in the neck, including discs, ligaments, nerves, and muscles, are damaged. Sometimes a small vessel tears and releases inflammatory substances in the neck, causing swelling.
Depending on the results from your physical exam, your doctor may order a CT scan or MRI if they think your neck injury is whiplash. However, whiplash often occurs within structures too small to be viewed with these tests. Symptoms are the primary way to tell if you have whiplash.
Whiplash Treatments
The goal of whiplash treatment is to reduce your pain, improve the range of motion in your neck, and allow you to return to your normal life.
Common treatments for whiplash include:
Rest and ice – You may need to rest and ice your neck to reduce pain and swelling. For instance, your doctor may recommend that you apply ice for several minutes every few hours.
Neck stretches – Your doctor may recommend gentle stretches. For example, gently rotating your neck in both directions and tilting your head from side to side may ease stiffness.
Over-the-counter medications – Drugs like ibuprofen can relieve pain and reduce swelling in many whiplash victims.
Prescription medications – People with worse pain might be given prescription pain medications or even antidepressant drugs, which have been shown to reduce nerve pain.
Injection of numbing agent – This may be used to decrease pain in specific muscles so that you can participate in physical therapy.
Physical therapy – In more severe cases, physical therapy may be necessary to strengthen your muscles and restore movement.
Transcutaneous electrical nerve stimulation (TENS) – This can help reduce pain by applying a mild electric current to the neck.
Neck brace or collar – This can add support. However, braces shouldn't be used long-term because they may actually weaken the neck muscles over time.
Apply moist heat after icing your neck – Your doctor may suggest that you apply heat after the initial swelling has gone down.
How Long Do the Symptoms of Whiplash Last?
Some victims of whiplash are relieved of the worst symptoms within a few weeks. However, it is not uncommon for people to experience symptoms like pain and stiffness for months or even years after the injury.
The first three weeks following the whiplash injury are typically the most painful. The amount of pain you feel during this time can be an indication of how severe the injury is. If you have a pre-existing condition, such as neck pain or arthritis, you may have a more difficult time making a full recovery from whiplash.
Steps to Take After a Whiplash Injury
Your actions after the accident affect your chances of physical recovery and your eligibility for financial compensation. If you suspect that you have sustained a whiplash injury in a car accident, take the following steps:
Get medical treatment. See a doctor as soon as possible after a car accident for a complete medical exam. Once you explain the circumstances of your car accident, your doctor will check for signs of whiplash and treat it.
Follow your treatment plan. It's critical that you follow the treatment plan set forth by your doctor. This will help you recover and minimize pain and impairment. Following the plan also shows the insurance companies that you have a serious injury.
Obtain relevant medical documents. Keep detailed records of receipts for all medical expenses related to the treatment of your whiplash injury. If your claim is successful, you could recover compensation to cover those bills.
File an insurance claim. File a claim with the insurance company of the at-fault driver as soon as you can after your whiplash injury.
Contact a whiplash injury lawyer. Dealing with insurers is challenging, especially when you are trying to recover from a serious injury. An experienced whiplash injury lawyer can ease your burden by investigating the accident, building a strong case, handling all communications, and negotiating for a fair settlement.
What Compensation Can You Recover for a Whiplash Injury in Tennessee?
Types of compensation you may be able to pursue your whiplash claim include:
Medical expenses associated with whiplash may include doctors' visits, hospitalizations, surgery, therapy, prescription drugs, medical devices, and more.
Lost wages are due to your inability to return to work after the whiplash injury. Lost wages may include not only your salary or wages lost but also any missed bonuses and promotions and lost employee benefits.
Pain and suffering related to the injury.
Mental anguish endured following your accident.
Property damage to your vehicle.
Contact an Experienced Morristown Whiplash Injury Attorney
The Morristown whiplash injury attorneys at The Terry Law Firm are ready to help you seek justice if you suffered whiplash in an accident that was not your fault. We know how painful and limiting these injuries can be. We are ready to pursue the fair compensation you're owed.
Contact us today for a free case evaluation.