Pedestrian Accident Lawyer in Sevierville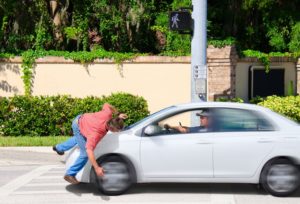 Pedestrian accidents are often devastating. According to the Federal Highway Administration, approximately 5,000 pedestrian deaths occur each year, and 65,000 pedestrians are injured annually. If you have been the victim of a pedestrian accident in Sevierville or elsewhere in East Tennessee, you may have the right to seek compensation for medical expenses and other losses.
A knowledgeable pedestrian accident lawyer can help you receive the compensation you deserve. If you suffered a pedestrian accident in Sevierville, consider reaching out to the experienced pedestrian injury lawyers at The Terry Law Firm. With a family tradition of legal services since 1960, The Terry Law Firm is dedicated to providing its clients with personal care from experienced attorneys.
Types of Pedestrian Accidents in Sevierville
While the circumstances of each accident are unique, there are a few common categories of pedestrian accidents that many accidents fall under. Some of these include:
Intersection crashes –These occur when pedestrians cross at an intersection and motorists fail to yield the right-of-way.
Cars turning or merging – Busy intersections can be dangerous because drivers may focus on turning or merging instead of looking out for people on foot. Inattention can easily result in an accident at an intersection.
Passing in front of a stopped vehicle – In some cases, a bus or vehicle may have stopped to let a pedestrian out of the vehicle or allow someone to cross in front. Another driver could fail to slow down and look out as they try to pass stopped traffic, causing an accident.
Backup accidents – Accidents that involve a car backing up often occur when the driver has limited visibility while backing up or is careless and hits a pedestrian. These accidents are more common in parking lots or driveways with limited liability.
Work or play accidents – In residential areas, children may suddenly run into the street while playing. In work zones, construction workers may need to perform work that requires them to stay in the middle of the street. Drivers should always reduce their speed in these areas.
Depending on the scenario, a driver could be at fault due to reckless behavior such as speeding or distracted driving. A Sevierville pedestrian accident attorney at The Terry Law Firm can investigate your situation to determine liability.
Common Causes of Pedestrian Accidents in Sevierville
In many circumstances, pedestrian accidents result from negligent or reckless driving. Some common causes of pedestrian accidents in Sevierville include:
Driving while under the influence of either drugs or alcohol
Distracted driving, including texting while driving
Drivers turning at intersections without looking both ways
Speeding
Poor visibility
Drivers failing to stop at a crosswalk or an intersection
Common Injuries in Pedestrian Accidents
Some common injuries in pedestrian accidents include:
Deep cuts and bruises, including damage to major organs
Head injuries, such as concussions and traumatic brain injuries
Dental and facial injuries, which includes eye injuries and vision loss
Spinal cord injuries, including paralysis and other function loss
Orthopedic injuries, such as broken bones, joint damage, and other injuries to the musculoskeletal system
Compensation for Victims of Sevierville Pedestrian Accidents
To pursue compensation for medical bills and other damages, victims of pedestrian accidents typically have two options:
Make a claim against the driver's insurance policy
File a personal injury lawsuit
The second option is critical in cases where the driver's insurance coverage is less than the victim's accident-related costs or if the driver is uninsured. Pedestrian accident victims may be able to pursue uninsured motorist (UM) or underinsured motorist (UIM) benefits under their own auto insurance policy if the at-fault driver lacks sufficient coverage. UM/UIM can apply even though the victim was not driving at the time of the crash.
Under Tennessee law, the person who causes the accident is legally required to cover medical bills and other losses related to the crash. However, the injured person must prove that their injury was the result of the driver's negligence and that the crash caused compensable injuries. Consider contacting an experienced pedestrian injury attorney at The Terry Law Firm for guidance on what to do in order to seek compensation.
What Should I Do After a Pedestrian Accident?
There are several important actions an injured person should take following a pedestrian accident, including:
Contacting the police in order to have an official police report
Seeking a medical evaluation to ensure that your health is protected and you have evidence that the pedestrian accident caused your current injuries
Exchanging insurance information, including contact information with the driver
Reporting the accident within a few days to their insurance
Keeping all relevant records and receipts, including a copy of the accident report from the police officer on the scene and all records and documentation of therapy, treatment, and medication
Contacting an experienced pedestrian accident lawyer for a free claim review and discussion of your best legal options
It is important to note that keeping relevant records and receipts is critical if the pedestrian needs to pursue a legal claim against the driver. These records may serve as evidence in your future claim and help establish your right to receive compensation.
Tennessee Pedestrian Laws
If you have been injured in a pedestrian accident in Sevierville and are unsure who is at fault, referring to the Tennessee pedestrian laws from the Tennessee Department of Transportation can help clarify. Here are a few important takeaways:
Drivers are responsible for protecting pedestrians by staying alert, yielding at crossings, and remaining diligent to avoid injuring people.
Drivers may not use mobile devices or overtake and pass another vehicle stopped at a crosswalk.
Pedestrians may use any road that is not access-controlled, such as an interstate.
Pedestrians may cross the road at any location unless restricted by a local ordinance.
Pedestrians must use sidewalks when available.
Pedestrians must yield to vehicles on the roadway when crossing the road outside of a crosswalk.
If you are confused by these laws, reaching out to a pedestrian accident lawyer may help you better understand all of your legal rights.
Contact a Pedestrian Accident Lawyer in Sevierville Today
It can be frustrating and overwhelming trying to navigate what compensation you may be eligible for following a pedestrian accident. Experienced pedestrian accident lawyers can help you determine who is liable, what compensation you deserve, and how to file a claim within the deadlines.
The experienced personal injury attorneys at The Terry Law Firm are professional and compassionate. Contact us for a free consultation to learn more about your legal rights and ensure that they remain protected so you can pursue the compensation you deserve.