Birth Injury Attorney in Greeneville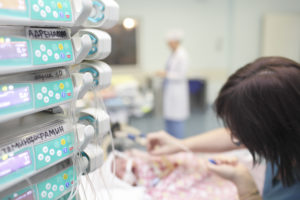 If you or your child sustained serious injuries during labor or delivery, you're not alone. Though birth trauma rates in the U.S. have steadily declined in recent decades, the National Center for Biotechnology Information estimates that nearly two in every 1,000 live births involve some kind of physical injury.
Since 1960, the attorneys of The Terry Law Firm have advocated relentlessly on behalf of injured mothers and infants in Greeneville and throughout the surrounding areas of East Tennessee. We have extensive experience handling birth injury cases. We have the skills and resources necessary to pursue maximum compensation for your birth-related injuries. 
Contact us today to learn more about how we can help you in a free, confidential consultation. 
How Our Attorneys Can Help After a Birth Injury in Greeneville
If you suspect your child's birth injuries may have been caused by medical negligence in labor or delivery, it's important to seek the advice and representation of a qualified birth injury lawyer. Birth injury cases often involve complex medical malpractice considerations, so a seasoned advocate with experience litigating birth trauma claims can make a substantial difference in the success of your claim.
The Terry Law Firm specializes in personal injury claims, including birth injury cases, and can help you pursue compensation by:

Identifying strong supporting evidence

– Our lawyers can review your medical records and your child's prenatal, birth, and neonatal care records to check for inconsistencies or possible signs of medical malpractice or neglect.

Consulting other medical professionals

– If needed, The Terry Law Firm can consult healthcare providers in related fields to obtain professional, unbiased interpretations of the events leading up to a birth injury. 

Researching standards of care

– We can evaluate the acceptable standards of care for a given birth scenario, which detail how qualified medical professionals should have managed a patient's care under certain circumstances.

Building a case against negligent providers

– The medical malpractice attorneys of The Terry Law Firm can use expert witness testimony and solid evidence to construct the strongest birth injury case possible.

Filing a medical malpractice insurance claim

– After we outline the specifics of your case, our lawyers can handle every aspect of filing a claim for compensation with the negligent provider's medical malpractice insurance company.

Representing you in court, if necessary

– If we are unable to settle your insurance claim for a reasonable amount, The Terry Law Firm is prepared to take your case to court to demand the compensation your child needs to recover.
Who Can Be Held Responsible for a Birth Injury?
Many people assume that only the physicians or midwives who actually deliver babies can be liable for birth injuries. However, birth injury cases often involve multiple parties who may be held responsible for medical malpractice, such as:

Doctors

– Attending physicians can be held responsible for birth injuries if they make negligent errors during labor and delivery, fail to respond to fetal distress appropriately, or make delayed diagnoses or misdiagnoses, for example.

Nurses

– Nurses who help monitor mothers and babies before and after delivery may be liable for birth injuries if they fail to notify available physicians about symptoms of potential complications, such as abnormal fetal heart rates.

Anesthesiologists

– Birth injuries may be caused by errors, such as the incorrect dosage or the wrong type of anesthesia, which can leave patients with severe brain damage, paralysis, or even fatal trauma.

Midwives

– If mothers opt for home births with the assistance of a midwife, midwives may be held responsible for birth injuries if they fail to recognize serious health complications and don't recommend appropriate hospital intervention.

Hospitals

– Hospitals may have vicarious liability for birth injuries caused by members of their staff or if they allow unsafe healthcare practices or employ unlicensed or unqualified medical professionals, for example.

Pharmacies

– Sometimes, inappropriate medications or dosage amounts cause birth defects or injuries. When this happens, the pharmacy that dispensed the incorrect treatment may be held accountable.
Compensation in a Greeneville Birth Injury Case
When obstetricians, nurses, and other healthcare providers deviate from appropriate standards of medical care, babies and mothers can suffer serious or even fatal injuries. If you are reeling from the impact of your or your child's birth injury, you may be able to recover compensation by taking legal action against the at-fault parties.
Tennessee law allows medical malpractice victims to pursue compensation that can cover their birth injury-related losses, such as:

Past and future medical expenses

– Any costs related to the treatment of birth injuries, including emergency surgical intervention, corrective surgeries, physical or emotional rehabilitation, and expected future treatment costs.

Additional healthcare-related costs

– Expenses related to the care of birth injury victims, such as psychological counseling, in-home care, home or vehicle accessibility modifications, and transportation to healthcare appointments.

Lost earnings

– If parents are forced to miss time at work to recuperate from birth injuries or care for injured newborns, they may be entitled to compensation for lost income and loss of future earning potential.

Pain and suffering

– Some birth injury settlements include compensation for physical pain and suffering experienced by injured babies and mothers as a result of medical malpractice or negligence.

Loss of companionship

– If a mother dies because of labor and delivery complications that arise due to medical malpractice, her partner may be able to recover compensation for the resulting loss of companionship or consortium.

Loss of quality of life

– If mothers or babies are disabled as a result of negligence-related birth injuries, they may be entitled to compensation for general losses in their quality or enjoyment of life.
Common Types of Birth Injuries
Birth injuries due to labor and delivery complications range from minor to severe or even fatal. Some common types of Greeneville birth injuries include:
Asphyxia

– A lack of oxygen to the brain, which is often caused by umbilical cord compression, uterine rupture, or placental abruption. Asphyxiation injuries are preventable if doctors take appropriate action.

Bone fractures

– Many babies suffer skull and collarbone fractures as a result of difficult deliveries in which medical providers fail to proceed with caution.

Brachial plexus injuries

– When babies' necks are stretched too forcefully during delivery, brachial plexus nerves may be damaged, which can result in loss of sensation or function in the arm. 

Caput succedaneum

– When vacuum extractors are used improperly, sometimes babies experience caput succedaneum or severe swelling of the scalp.

Cerebral palsy

– A type of brain or nervous system disorder that often causes problems with the ability to see, hear, learn, or move.

Erb's palsy

– A type of palsy that occurs as a result of brachial plexus injury and affects a newborn's strength, growth, and ability to move or feel their arms, hands, and wrists.

Hemorrhaging

– When subgaleal or intracranial hemorrhages occur, ruptured blood vessels cause substantial blood loss and may require blood transfusions to prevent oxygen loss and subsequent brain damage among newborns.

Shoulder dystocia

– When a baby's shoulder becomes lodged or stuck on the mother's pelvic bones, it can result in bruises, brachial plexus injuries, and bone fractures.

Traumatic birth injuries

– When compressing or contracting forces cause external injuries to babies during labor. Many traumatic birth injuries affect the brain, spine, nervous system, or bones and often include hemorrhages, palsy, and bone fractures.
Common Causes of Birth Injuries
Many birth injuries are the result of congenital conditions, but some are caused by preventable medical errors, such as:
Amniocentesis errors

– When amniocentesis tests are not conducted appropriately, mothers and babies sometimes suffer infections and blood loss at needle puncture sites.

Delayed Caesarean sections

– If natural birth is too risky and doctors or midwives fail to recommend Caesarean sections in time, birth injuries may result from avoidable labor and delivery complications.

Failure to recognize risk factors

– Medical professionals are expected to look out for certain factors such as high birth weight, breech birth position, and prolonged or difficult deliveries that often require special precautions.

Inadequate fetal monitoring

– Doctors, nurses, and midwives should always check for signs of abnormal fetal heart rate, umbilical cord entrapment, and other types of fetal distress that could require emergency attention.

Improper forceps or vacuum extraction techniques

– When delivery instruments are misused, mothers and babies sometimes experience unnecessary pain, blood loss, and bone fractures as a result.

Infections

– If medical providers fail to properly sterilize their equipment or clean wounds from puncture or incision sites, resulting infections can cause serious diseases and other complications for mothers and their newborns.

Medication errors

– If anesthetics, epidural drugs, or other labor and delivery medications are administered inappropriately, medication errors can lead to serious health complications, such as an overdose or premature delivery. 
Contact a Birth Injury Lawyer in Greeneville for Help
The Terry Law Firm is committed to helping Greeneville birth injury victims seek the rightful compensation they need. Every member of our firm works as a team to maximize the benefits you receive and help you take back control of your life. 
Contact us today to discuss the details of your situation with a compassionate lawyer in a confidential case review. Our initial consultations are always free. You only pay us legal fees if we win compensation for you.