Motorcycle Accident Attorney in Greeneville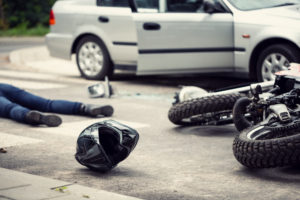 Many residents of Greeneville and throughout Tennessee enjoy riding motorcycles for transportation and recreation. Most riders know the risks associated with riding and take every possible precaution to keep themselves safe.
Even an experienced rider wearing the proper protective gear is no match for a car or truck driven by a negligent driver. When these vehicles collide, the motorcyclist is the one who will likely suffer the most severe injuries. In far too many instances, riders suffer catastrophic or fatal harm.
If you've been injured in a motorcycle accident in Greeneville that wasn't your fault, turn to the personal injury lawyers of The Terry Law Firm. For more than 60 years, our firm has helped clients pursue the compensation and justice they deserve.
You can trust our team of attorneys to put in the time and work necessary to fully understand the details of your case and to prepare a legal strategy based on your concerns, goals, and needs.
Contact The Terry Law Firm today for a free initial case evaluation with a motorcycle accident attorney. We are ready to discuss your legal rights and options after you've been injured in a motorcycle accident in Greeneville, TN.
Common Causes of Motorcycle Accidents in Greeneville
Motorcycle accidents in Greeneville have many potential causes. Many crashes can be attributed to other drivers who fail to notice that they are sharing the road with smaller, less-visible motorcycles.
Some of the most common causes of motorcycle crashes in Greeneville, TN, include:
Speeding
Careless or reckless driving
Tailgating or following too closely
Unsafe lane changes and turns due to failing to signal, yield, or check mirrors and blind spots
Distracted driving, including using a cell phone while behind the wheel
Drowsy or fatigued driving
Driving under the influence of alcohol or drugs
Poor road conditions due to rain, sleet, snow, or other inclement weather
Poor visibility due to low lighting, heavy fog, or precipitation
Defective roadway surfaces, including broken pavement or potholes
Design or manufacturing defects in vehicles or vehicle parts
Types of Motorcycle Accidents
Motorcycle accidents can happen in several different ways, such as:
Single-vehicle crashes, where the motorcycle rider loses control of the bike and crashes. These accidents can occur due to poor road surface conditions. They may also be triggered by another negligent or reckless motorist that a motorcycle rider has to swerve to avoid, causing them to lose control of the bike.
Head-on accidents, which happen when another vehicle fails to notice an oncoming motorcycle, such as when moving into the motorcycle's lane during a passing maneuver.
Rear-end collisions, which can happen when other motorists speed or follow too closely, as motorcycles can slow and stop much more quickly than a passenger vehicle, or when motorists fail to notice a motorcycle in front of them (often when texting-while-driving).
T-bone accidents, when a vehicle collides with a motorcycle or a motorcycle hit another vehicle at a perpendicular angle. These accidents happen most frequently at intersections as a result of a motorist's negligence when turning.
Side-swipe accidents, which involve the side of another vehicle colliding into the side of a motorcycle and its rider. These accidents often occur on the highway when drivers fail to signal or yield when changing lanes and run into a motorcyclist in an adjacent lane.
Common Motorcycle Accident Injuries
Motorcycle riders lack the protection of an enclosed passenger compartment found in cars and trucks. Motorcycles also lack safety features like seatbelts or airbags. As a result, motorcycle riders tend to suffer much more severe injuries than other motor vehicle accident victims.
Examples of injuries commonly suffered in motorcycle crashes include:
Severe lacerations and profuse bleeding
Road rash
Burns from contact with hot engine surface or from fires that result after a crash
Broken bones
Soft-tissue injuries, including whiplash injuries, disc herniation or ruptures, or strained or torn ligaments, tendons, and muscles
Internal organ damage and internal bleeding
Perforation injuries, when an object pierces a rider's body
Spinal cord damage and paralysis
Head injuries
Traumatic brain injuries
Amputation
Psychiatric conditions, such as PTSD
Types of Compensation for Greeneville Motorcycle Accidents
If you've been involved in a Greeneville motorcycle accident that was caused by another party, you may be entitled to compensation for the injuries and losses you've suffered as a result of the crash, such as:
Costs of medical treatment, including ER visits, surgeries, and other medical procedures, or prescription medications
Therapy services, including physical rehab or mental health therapy
Lost income from missed time at work
Lost earning potential, if injuries result in disabilities that permanently affect your ability to return to work
Physical pain and emotional distress
Lost quality of life due to physical scarring and disfigurement, due to disabilities that interfere with daily living or participating in activities you previously enjoyed, or due to reduced life expectancy because of your injuries
Property damage, including repair or replacement costs for your motorcycle
How a Motorcycle Accident Lawyer Can Help You
When you've been hurt in a motorcycle accident, you don't have to face the legal process by yourself. A motorcycle accident lawyer from The Terry Law Firm can help you to seek financial recovery from those at fault for the accident by:
Performing a thorough investigation of the accident, including relying on accident reconstruction and engineering experts to determine the cause of the crash and identify the party or parties at fault.
Aggressively asserting your rights and protecting your interests if insurance companies and defense lawyers attempt to use biases and stereotypes of motorcycle riders as dangerous or reckless motorists to pin blame for the accident on you.
Documenting your losses, including personal, non-financial harm, such as pain and suffering and lost quality of life, so that your financial recovery in your case provides you with the justice you deserve.
Filing your claim with the insurance companies and vigorously pursuing a fair and full settlement.
Taking your claim to court, if necessary, and advocating on your behalf at trial to fight for a verdict and judgment in your favor.
Contact a Greeneville Motorcycle Accident Lawyer
If you've been injured through no fault of your own in a motorcycle accident in Greeneville, contact the motorcycle accident lawyers of The Terry Law Firm today for a free, no-obligation consultation. Learn more about how a Greeneville motorcycle accident lawyer can help you pursue the financial compensation you need to treat your injuries and get your life back after a devastating motorcycle crash.