Drunk Driving Car Accident Lawyer in Greeneville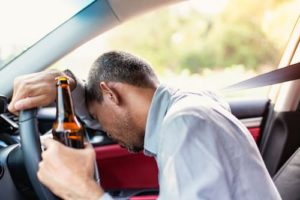 Drunk driving accidents are a serious problem in Tennessee and throughout the United States. The National Highway Traffic Safety Administration (NHTSA) reports that 10,511 people died in alcohol-related crashes across the country in a single recent year.
Closer to home, the Tennessee Department of Safety and Homeland Security reported that there were 5,853 alcohol-related crashes statewide in one recent year, including 44 crashes in Greene County where Greeneville is located. While not every drunk driving accident is fatal, a crash can still result in serious physical injuries, extensive medical bills, and lingering mental health issues.
If you have been involved in a drunk driving accident in Greeneville or elsewhere in East Tennessee, The Terry Law Firm is ready to help. When you work with our firm, our drunk driving accident attorneys will fight aggressively to seek the compensation you deserve for your injuries.
We've recovered tens of millions of dollars on behalf of our clients, and we've been recognized by the National Trial Lawyers as one of the Top 100 Trial Lawyers nationwide. Don't hesitate to begin your free initial consultation by calling our Greeneville office or visiting our contact page.
Consequences for Drunk Driving in Greeneville
When it comes to drunk driving accidents, the impact extends beyond the damage to your car or the injuries you've suffered. Here are a few of the ways that being involved in a drunk driving crash can negatively affect your life:
Painful injuries – Drunk drivers often engage in other reckless or negligent driving behaviors like speeding, aggressive lane changes, running red lights, and so on. These actions not only make an accident more likely when a driver is drunk, they also increase the likelihood of major injuries. Being hit by a drunk driver can result in serious lacerations and bruises, broken bones, damage to internal organs, neck and back injuries, damage to the brain, and more.
Life-altering disabilities – In especially serious drunk driving accidents, your injuries may be so severe that you are temporarily or permanently disabled in some way. Damage to the back or neck can result in numbness in limbs and extremities, or even paralysis. A traumatic brain injury can permanently impact the ability to think and communicate, as well as result in loss of movement.
Financial strain – Even with good health insurance, a drunk driving accident can be extremely costly. If you need emergency medical treatment, the cost can easily be tens of thousands of dollars or more. After the initial treatments are complete, you may need physical therapy to regain your full range of motion so you can take part in daily activities. Depending on the nature of your injuries, you may need ongoing care long after the crash, perhaps for the rest of your life. All of these costs add up, especially if your injuries limit your ability to work in the weeks and months after the accident.
Mental and emotional trauma – Being involved in a drunk driving accident is a frightening, intense experience. It's not uncommon for the victims of these accidents to have nightmares or flashbacks for months, even years after the accident. Post-traumatic stress disorder (PTSD), depression, anxiety, and other mental health problems can have just as much of an impact on your life as any physical injury. These issues can be harder to treat than physical ailments.
Common Types of Injuries from Drunk Driving Accidents
Some of the most common injuries from drunk driving accidents include:
Severe lacerations and scarring – Broken glass, jagged metal edges, and other debris can leave deep lacerations that cause massive bleeding. If the cuts are severe enough and aren't treated in time, the resulting blood loss can be fatal. Even in cases where the lacerations aren't fatal, they can leave scars that may not fully heal without corrective surgery. Deep, painful bruising is also common in many drunk driving accidents. Though these bruises will eventually heal, they can be painful for a long time.
Broken bones – The impact from a drunk driving accident can easily break bones, especially if you are directly struck by the body of the car that crashed into you. These kinds of injuries can be excruciating, and they can take a long time to heal. If broken bones aren't set correctly, they may not heal properly, which can impact your movement and ability to take part in everyday activities.
Internal injuries – Damage to internal organs is especially dangerous in a drunk driving accident, as these injuries can easily prove fatal or have other lifelong consequences.
Soft-tissue injuries – Torn or ruptured muscles, ligaments, and tendons are common in drunk driving accidents, especially if the crash twists your body into an unnatural angle. Damage to muscles, ligaments, and tendons can limit your ability, even after physical therapy, leaving you with lifelong health problems.
Spinal cord injuries – Spinal cord injuries are especially damaging because they can be difficult to repair. Nerve damage can be permanent, limiting your mobility, your ability to work, and what kinds of daily activities you can take part in.
Traumatic brain injuries – Concussions, objects penetrating the skull, and other damage to the brain are some of the most serious injuries that you can suffer in a drunk driving accident. Brain bleeds can be fatal, and damage to the brain can impact your memory, cognition, personality, and mobility. Brain injuries can be difficult to recover from if recovery is even possible.
I'm the Victim of a DUI Accident, What Do I Do?
Should you find yourself in a DUI accident, here's what you need to do:
Get medical treatment as soon as possible and follow your doctor's orders exactly. If you aren't taken to the hospital after calling 911, see your own doctor as soon as you can. You want to start treatment quickly to maximize your chance of a full recovery, and you may have internal injuries that weren't diagnosed at the crash scene. Make sure you follow your doctor's treatment regimen precisely. This can not only protect your health but also your personal injury claim.
Save all medical records and other evidence. Hold onto all your medical records, any receipts related to your medical care, any photos from the crash scene, the police accident report, and other evidence you have. You'll need as much documentation as possible of your injuries and the financial losses you've sustained in order to secure maximum compensation when you file a claim against the drunk driver.
Start a journal. You can claim compensation for your pain and suffering as a result of a drunk driving accident, but it's difficult to calculate your loss without some sort of documentation. A journal can help you keep track of how your injuries are affecting you on a day-to-day basis and how they limit your ability to enjoy your usual activities.
Talk to a lawyer as soon as possible. You should have a lawyer handle all communications with the other parties involved in the accident. You especially do not want to give any statement to the other driver's insurance company or their lawyer without an attorney of your own to represent you. The sooner you talk to a drunk driving accident lawyer, the sooner they can begin working to pursue the compensation you deserve.
Suing for Damages After a DUI Accident in Greeneville
Tennessee law allows drunk driving accident victims to file personal injury lawsuits. The state uses a modified comparative negligence standard for these lawsuits. This means that you can still recover compensation for your injuries even if you were partially to blame for what happened.
As long as you were less than 50 percent responsible for the crash, you can claim compensation. Any compensation will be reduced by your percentage of fault. For example, if you're found to be 25 percent responsible for the accident, and your damages totaled $100,000, your compensation would be reduced by 25 percent. That means you could recover only $75,000.
Some of the losses you could recover compensation for in a drunk driving accident lawsuit include:
The cost of past and future medical care related to your injuries
Any lost wages you suffered due to the accident
Your reduced ability to work due to your injuries
Your physical pain and suffering
Any mental or emotional pain stemming from the accident
The value of any property that was damaged or destroyed in the crash
Tennessee law gives drunk driving accident victims just one year from the date of injury to file a lawsuit. If you want to pursue compensation for your injuries, it's imperative that you speak to a Greeneville drunk driving accident lawyer as soon as possible.
Contact DUI Accident Attorneys in Greeneville Today
With the short timeframe, you have to seek compensation for your losses after a drunk driving accident, you need to speak to a lawyer as soon as you can. The Terry Law Firm can help. Get started by calling our Greeneville office or visiting our contact page. The consultation is free, confidential, and without obligations.